Top 10 places to go in Shanghai
If you come to Shanghai , there are some places you should not miss. Here I will introduce the top ten popular spots worth your visit.
1. Oriental Pearl Tower
Oriental Pearl Tower is the symbol of Shanghai. It's about over 460 metres high, which is the third highest tower in Asia. It is one of landmarks in Shanghai. The tower is located at the tip of Lujiazui in Pudong district, by the side of Huangpu River and opposite of The Bund of Shannghai. The tower is a combination of broadcasting, sightseeing, entertainment and exhibition. The highest sphere is known as space module. The lower level at 263m is known as sightseeing floor and you can view the whole city there. There is a revolving restaurant in the tower and you can enjoy a pleasant meal experience. There is a exhibition hall underground and you can see the life situation during Shanghai's history.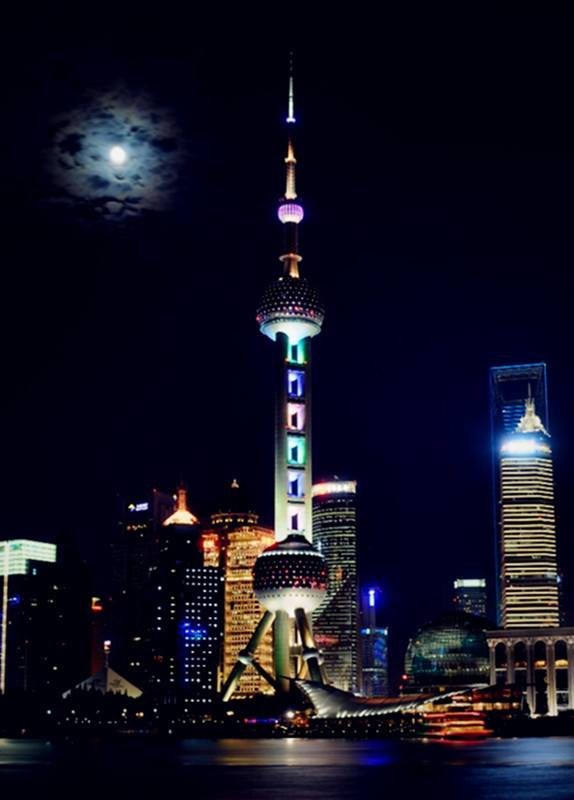 2. The Bund of Shanghai
Talking about The Bund of Shanghai, it is also one of the most recognizable architectural symbols of Shanghai. It became the epitome of elegance during Shanghai's history as a city of trade. It is located by the side of Huangpu River and buildings in Greek, Romanesque and Baroque styles can be seen along the west of the Bund. Now many attractive new constructions have been coming out in addition to the historical buildings. There is a 771-meter long retaining wall for flood control that was built. Atop the wall is a spacious walkway for sightseeing. Paved with colorful tiles and dotted with flower beds and European-style garden lights. It is a good place for a leisurely stroll and a view of the Huangpu River. You can enjoy the beautiful view of Lujiazui with latest new buildings across the river.
3. Riverside Avenue
It is also located in Lujiazui in Pudong district, by the another side of Huangpu River and the opposite of the Bund. It is called "new Bund of Pudong". Walking on riverside avenue, you can look aroud the main sites in Pudong. Except for the Pearl Oriental Tower, the Shanghai Stock Exchange, the Ocean Aquarium, the Jin Mao Tower, the Super Brand Mall, and some restaurants and coffee houses are there or close to it. And also you can view the whole Bund. Especially at night, when you are sitting with a cup of coffee, looking around the beautiful scene of Huangpu Jiang and the Bund, you will feel what a beautiful life.
4. Yuyuan Garden
"Yuyuan Garden" is a famous classical garden built in the Ming Dynasty(1368-1644). Actually this touring spot has become a commercial place including Yuyuan Garden, Chenghuang Miao(The City God Temple) and many small stores you can buy for gifts. This place is popular for snacks Shanghai style like very famous Nanxiang dumplings, fried dumplings, Wonton, Spring Rolls etc . And in some Chinese traditional holidays like Lantern festival or dragon boat festival or others, there are some activities here. So Yuyuan Garden is a very crowded spot where you can get closer to Shanghai's culture or lifestyle.
5. Nanjing Road
Nanjing Road is a characteristic pedestrian street which is called "No.1 Business Street of China". The street is paved with colorful bricks and stones, with wooden benches, telephone booths along the street. It is perfect for leisurely strolling. There are a lot of famous shops and department stores on both sides of the road. When the night falls, numerous and colorful neon lights sparkle in the darkness, making the street extremely charming and dreamlike. However, if you get up early and come to Nanjing Road in the morning, you will surprisingly find it a totally different scene. The residents are dancing to the music, playing badminton, practicing Taichi etc. It is more like a park rather than a shopping area. By the way, Nanjing Rd. has a long history which can be traced back to the year 1851.
6. Shanghai Museum
Shanghai Museum is located in the south of People's Square. It is a famous comprehensive museum of Chinese arts and hailed as Top Four Museums in China together with the ones in Beijing, Nanjing and Xi'an.The new exhibition building was completed in 1996 which covers about 11,000 square meters and the whole shape of the building is designed to be a giant bronze tripod of ancient style. The museum collects over 12, 000 pieces of valuable cultural relics in 21 categories, including some donations from private collectors. It is characterized by ancient bronze wares, ceramics, calligraphies and paintings. Besides, other precious cultural relics which include ancient coins, jades, sculptures, seals, furniture of Ming (1368-1644) and Qing (1636-1911) dynasties, and ancient art crafts of minorities. Anyway, Shanghai Museum demonstrates the ancient wisdom and philosophy of Chinese, amazing and shocking!
7. People's Square
People's Square is located in the heart of the city. It is the transport hub of Shanghai and also it is the center of politics, culture, commerce, entertainment and tourism. In a broad sense, People's Square is composed of an opening square, People's Park and some neighboring cultural, tourism and commercial buildings. Here stands the City Hall of Shanghai. Also you can find the most important culture venues of Shanghai including Shanghai Museum, Shanghai Grant Theater, Shanghai Urban Planning Exhibition Center, Shanghai Concert Hall and Shanghai Art Museum. Covering an area of 140,000 square meters, the square can hold more than 1,200,000 people. There is an old style street of Shanghai in 1930s under the square, where is there a vivid live-action replica of the old Shanghai buildings and townscape.
8. Shanghai Xintiandi (or Shanghai New World)
Shanghai Xintiandi is a vehicle-free leisure area. It was reconstructed in 1999 from Shikumen structures which is literally "stone gate" , a unique architectural style of traditional Shanghai residential buildings. The art galleries, fashion shops, themed restaurants, cafes and bars are hidden in these old and shabby Shikumen area but they are decorated with modern life style. Every year many international model contests, fashion shows, musical performances and news conferences are held here. Here also stands the site where the First National Congress of the communist Party of China was held in 1921, which brings another historic significance to Xintiandi. Besides, in Xintiandi,you can come across Chinese top stars and some of those run the shops by themselves here.
9. TianZi Fang
The neighborhood was originally built in the 1930s as a Shikumen residential district. It remained very local until about 2006 when it was slated for demolition to make way for redevelopment.
From the beginning of 2007, journalists, visitors and local residents began to visit the area and spread the word about a cosy little lane district that housed some interesting and creative businesses. Additional articles in both local and foreign media such as the New York Times helped increase awareness of this older and unusual community, that stood out among the more modern and commercial shopping areas of Shanghai.
Tianzifang has become a major tourist attraction and has more than 200 diverse small businesses such as cafes, bars, restaurants, art galleries, craft stores, design houses and studios, and even French bistros. It is adjacent to the SML center which is among the largest shopping malls in Shanghai upon completion.
Despite all the businesses selling trendy foreign goods, the area does not have the look of having been overly beautified – electricity cables are still strung overhead, and air conditioning units are obvious on the outside of the buildings. The district is distinctly different from Xintiandi, another Shikumen redevelopment in the vicinity to the north, in that it has managed to preserve its residential feel, adding to its appeal.
10. Ancient Towns in Shanghai
Zhujiajiao Ancient Town–Shanghai's Venice
Located in a suburb of Shanghai city, Zhujiajiao is an ancient water town well-known throughout the country, with a history of more than 1700 years. Covering an area of 47 square kilometers, the little fan-shaped town glimmers like a bright pearl in the landscape of lakes and mountains.
Endowed with another elegant name – 'Pearl Stream' – the little town is the best-preserved among the four ancient towns in Shanghai. Unique old bridges across bubbling streams, small rivers shaded by willow trees, and houses with courtyards attached all transport people who have been living amidst the bustle and hustle of the modern big city to a brand-new world full of antiquity, leisure and tranquility.
Zhujiajiao Ancient Town
Bridges in the Town: It is said that to visit Zhujiajiao without seeing the bridges means that you have not really been to Zhujiajiao at all! Bridges here are distinctive and old, built during Ming and Qing Dynasties. The old town is thoroughly connected by 36 delicate spans in different shapes and styles, from wooden to stone to marble.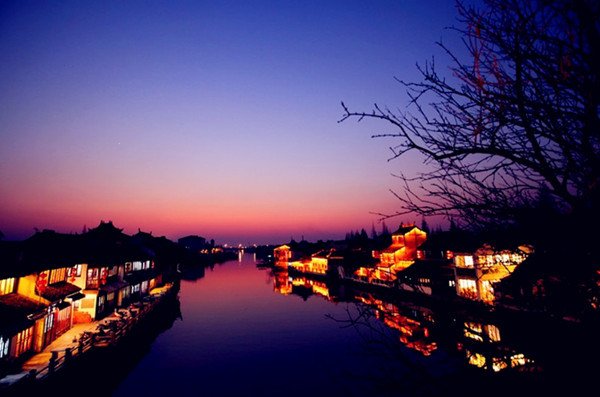 Qibao Ancient Town (Seven Treasures Town)
A closer choice of ancient town will be Qibao ancient Town.
Qibao Ancient Town, with a history spanning over one thousand years, is more than just a living fossil of ancient Chinese conurbation and urban planning. The town was built in Northern Song Dynasty (960-1126) and grew into a prosperous business center during Ming (1368-1644) and Qing Dynasties (1644-1911). Qibao is the Chinese for 'seven treasures' and there are two popular theories about its derivation.The other theory seems more popular among the local people who tell folk tales about seven treasures. These were an iron Buddha made in Ming Dynasty, a bronze bell also dating from the Ming Dynasty but said to have mysteriously appeared from nowhere, a Gold Script Lotus Sutra written by an imperial concubine of the 10th century, a one-thousand-year-old Chinese catalpa tree, a jade axe, a gold cockerel and a pair of jade chopsticks. Actually of these seven treasures, the existence of only first four can be verified while only the Scripture and the bell have survived to this day.