Why SinoStep?
We Know the China Market Better!
Business Oriented, Strong Knowledge & Expertise in Many Industries!
Results-Driven & Proven Records in mainland China, Hongkong, Taiwan!
Understand Your Business as well as Your Customers!
Quality Service & Cost-Effective!
Proven China Market Entry Expertise
In the past 6 years, we have introduced more than 80 overseas brands into the China market. We are now working as business operation center in China for many overseas businesses.
Creative team of
China Business consultants,
China Digital Marketers,
China Product Specialists,
China Designers,
Chinese Language Talents,
China Technical geeks
Customized Advisory Services to Your Specific Needs
China business opportunity analysis with sufficient information is a start for your decision making on marketing strategy, customer segmentation, market prioritization, product positioning, sales channels, and product distribution.
Clear define of the job scope, deliverable and transparent pricing is the foundation of the success.
Flexible & Cost Saving Services
You can find all aspects of needed services to start and grow a business in China, from market entry strategy consulting, China business opportunity analysis, business development, digital marketing, company formation & corporate services, to customs clearance.
Our expertise allow us to implement these services in a short time at an affordable cost.
You don't need to source and educate several different providers and it will save both your cost and your time.
Personal Attention
Step by step guidance, coaching, experience and personal care can help you achieve success in the China Market.
Comparison of Different China Market Entry Approaches
An overseas business can start doing business in China in different ways.
Let's compare them in details: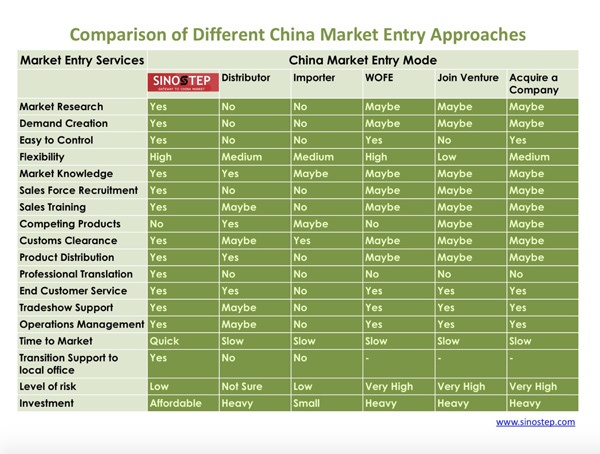 Contact us