All foreign business owners need to face the complete different culture in China and the way to do business.
In the last 5 years, we'd helped many overseas businesses enter into the China market.
Here are some tips to start your business in China
1. Strategy First
2. Pick Your Location
3. Determine The Legal Structure
4. Find A Chinese Partner, or more
5. Work With Advisors
6. Develop A Business Plan
7. Choose A Perfect Name
8. Register Your Business In China
9. Open Your Bank Account
10. Hire Your First Employee In China
11. Build Chinese Website That Can Sell
12. Get Your Products To the Market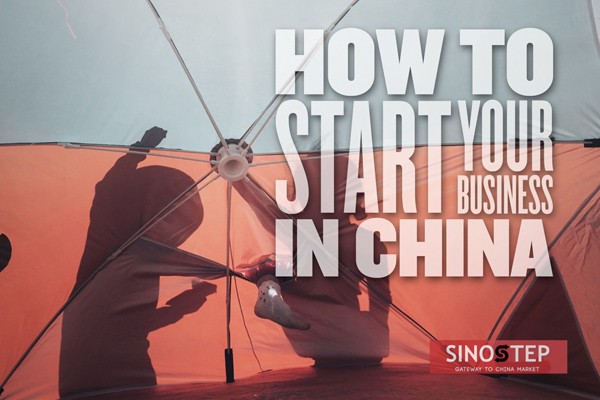 1. Strategy First
You need a China market entry strategy first before wasting your money in unknown places.
China market research is an important part of your preparation and business planning.
Do not reinvent the wheels.
First Two Questions
Forget it if it is illegal in China.
Typical example is the gambling business.
Is it open to foreign investment?
It is essential to learn about the evolution of your industry in the China market.
Many key sectors welcome foreign investors in China.
if it is not open yet, you need to wait and you could be the first on the market when it is open.
Learn from your friends
Talk to people who have already set up their businesses in China.
Ask them questions about their successful experiences and lessons learned.
You will be amazed at the stories they tell you since doing business in China is totally different from that in western countries.
Learn from your competitors
The best way to understand the market is to study your competitors.
You will learn from them to know where they are? How it looks like? What are their positioning? What is their pricing? How do they deliver the message to the market? etc.
The answers can help you shape your business plan and influence your initial decision making on products, marketing, pricing and your target audience.
Go to China
Buy an air ticket to China and take travels to see for yourself.
You can visit potential partners, visit your competitors as a customer:), attend trade shows or conferences,  and start networking in China.
Talk to your potential customers, government officials, etc. and understand what they really want.
FAQ: How to conduct an effective research in China?
Dig Deeper: Chinese Business Etiquette 101 for Doing Business in China
2. Pick Your Location
It is important to understand the China City Tiers before you make the choice of location and market prioritization.
The whole Chinese market is quite unbalanced.
Generally speaking, 1st Tier cities like Shanghai, Beijing and Shenzhen, are the first choice to put your headquarters in thanks to the convenient transportation, availability of talents.
You also need to consider various factors such as cost of living, government policies, etc. it shall be more about the consideration on the specific industry.
Once you determined the place to start, you can look for the office space through a realtor, you'll need proof of a lease to register your business in China.
3. Determine The Legal Structure
Before the business registration in China, you need to determine the type of business entity.
The most common types are
Representative Office (RO)
Wholly Foreign-Owned Enterprise (WFOE)
Equity Joint Venture (EJV)
Cooperative Joint Venture (CJV)
Special License Application
Representative offices are an low-cost and easy way to go, but what you can do is very limited so you cannot deliver any services or products. When there are more options which are not that difficult, most business owners do not tend to choose this.
A joint venture is a partnership between a foreign business owner and a Chinese citizen. The success requires the mutual trust between the foreign business owner and the Chinese partner.
The most common type of entity is a wholly foreign owned enterprise (WFOE). Nowadays it is the choice of most foreign investment thanks to the full control of the business.
A WFOE is becoming easier to register than before, however, it is still quite complicated and takes more time to get approval from the government.
4. Find A Chinese Partner, or more
This is not a must, however, for small to medium companies, a good and trustworthy Chinese partner will facilitate a lot of things for the business in China.
It is a culture where relationships are more important than contracts.
You need this kind of relationship to start your business in China.
The partner could be
your local representative
your distributors
your major suppliers
a digital marketing partner
a PR partner
a freight forwarder
a China customs clearance agent
other subcontractors
Our existing clients find it effective to use our China Business Development service to find their potential partners.
5. Work With Advisors
Consulting agency
Find a local representative or consulting agency to register your business in China.
It will help you free from unexpected troubles and numerous questions you will face.
There are many such service providers in the market.
The smart way is to get introduced to the reputable company.
You can also find solutions for your taxation, legal issues, accounting, bank account setup, recruitment, payroll arrangement, and customs clearance etc.
Dig Deeper: Set up your China business through SinoStep
6. Develop A Business Plan
Develop a detailed business plan, and make your business scope as broad as possible.
It is wise to make a five-year plan and tailor it to be in accordance with China's policy trend.
Make it specific to include your location, projected revenues, product or service description, expected number of employees and budget requirements.
This is also why you need the help from your local representative.
7. Choose A Perfect Name
Get a Chinese name for your business.
It is easier for your to build the brand image with a good name.
I strongly advise you to find some Chinese naming professionals to do this job.
It will help you free from the risk of branding: foreign name, name  with unlucky meaning, ridiculous, name, strange name, awkward name…
If you already have name candidates, you can do Chinese brand name evaluation to analyze them.
Protect your name
Intellectual property violations shall be one of your top concerns in China.
Company Registration Name
Since it is often repeated in the company registration name process, you need to prepare several company registration names.
The registration name is fine to be different from your formal brand name.
Prepare in advance and save your time.
Trademark
In China, the first person to register a trademark owns the rights to it, no matter whether that person is the first one to use the trademark.
Dig Deeper: China Trademark Registration
Domain name
Check to see if the domain name is available online.
Social media accounts
The same applies to social media account, such as weibo, wechat etc.
8. Register Your Business In China
Prepare your documents and get help from your local representative.
For each license you apply for, there will be quite a long list for the documents, sometimes the government will ask for additional materials, Quick actions will win yourself more time.
The policy varies in different places, so confirmation before you are ready is quite necessary.
Also make sure you get all the necessary licenses for your business, it is different for different industries.
Get the Sample Quotation
Guidelines to China Company Formation
$9.99Add to cart
Dig Deeper: How to set up a WFOE in China
9. Open Your Bank Account
It is normally quick and easy. make sure you can easily communicate with the bank or have someone responsible for this.
10. Hire Your First Employee in China
You can work with some freelancers to work on your tasks occasionally in the beginning.
When you officially start your operation in China, you need to hire full-time employees.
Communication is often the biggest issue in practices. That is why language skills are important to consider above all.
Trust the professional recruitment agencies to find the suitable candidates for you.
Just like anywhere else, good talents are not cheap. Be ready to pay what they deserves.
Do not trust the online statistics of average salaries of Chinese, get more hints from your friends and recruitment agencies.
You need to learn how much you should pay for the social welfare in China, it is not an amount you could ignore.
Once you have your first reliable managers on position, they will be able to help you hire the rest of employees.
11. Build Chinese Website That Can Sell
It is a common practice to have a Chinese website if you run a business in China.
I also wrote an ebook How to Build A Right Chinese Website That Works In China on this topic with 10 Steps to Build Your Successful Website for the China Market.
Adapt to the China market
Build a Website that Can Sell in China , you need a professional Chinese localization.
To make the site faster, apply for a web license and host the site in China.
Sell Directly Online
With Chinese payment gateway integrated, you can also sell your product or service directly through your website.
Work on digital marketing
Make full use of Chinese SEO, PPC, social media marketing to lead more traffic to your website and increase your online visibility.
Expert Review
A comprehensive Expert Review on your Chinese website or apps will find the problems of usability problems and you can correct most of the big mistakes and improve your site in a very short time.
12. Get Your Products To The Market
Your sales channels are quite different depending on your China market entry strategy.
Some rely on online sales, some are through telephone sales, some are through China local distribution network.
You can put your products on eCommerce platforms, such as Tmall, JD, YHD etc, as well as your official web store.
At last, wish you success in your new business in China.
Let me know if you have any questions.