This Thursday evening, the eve of 2016 Singles' Day (Nov. 11, 2016), there is not much traffic on the streets.
Chinese consumers were busy collecting coupons, searching and adding products into their shopping carts.
Deep Discounts
Online shopping discounts encourage consumers to spend more on this special day, sales have already outdone Black Friday and Cyber Monday sales in the U.S. in the past years.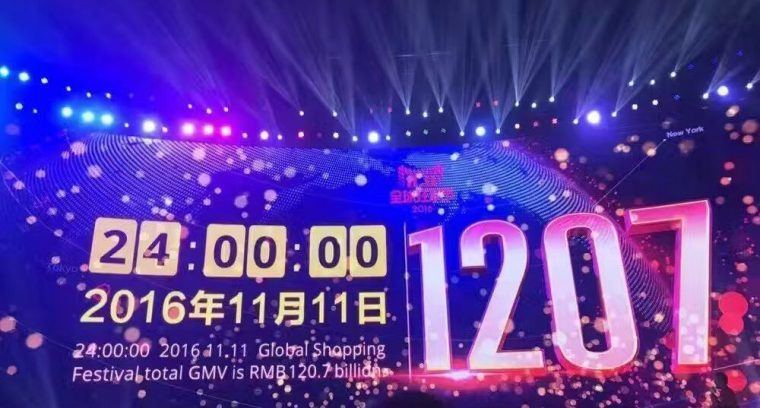 Task of the Year Before Sleeping
After midnight, it was 24 hours fight to empty the shopping carts of different online shopping sites.
In less than 52 seconds, 1bn yuan (US$147million) of products had already been sold through Alibaba's platforms. The same amount of sales had been sold through mobile devices took only 57 seconds.
It has been really like a holiday, entirely devoted to online shopping and sales.
More Coverage
This is the first year that shoppers in Taiwan and Hong Kong can buy global brands on Tmall.
Social Media
Customers share what they bought, and the feelings after completing the mission.
Merchants promote their discounts everywhere.
New Record, Slower Growth
Alibaba Group Holding Ltd posted a record of 120.7 billion yuan ($17.73 billion) worth of sales in the Singles' day this year.
It is a new record, while the growth was significantly lower than the 60 percent increase last year.
It is a signal that shoppers opted to spend less money on each purchase than in previous years.
Top Sellers
Foreign brands, esp. US brands, dominated the top sellers, with only a couple of Chinese brands  on mobile phones and home appliances ranking together.
Many foreign brands, with and without local China presence, will make full use of this shopping festival to further raise their brand profile with Chinese consumers
Most foreign brands would not offer such deep discount in the rest of the year while the selling price is quite high.
Apple, Nike, New Balance, Adidas and Ugg are especially popular in this day.
Negative Comments by Customers
Unavailability, Slow Delivery.
"I don't like Singles' Day because it is a waste of time." Vicky, my wife, told me. "I put several dresses in the shopping cart for Emily a few days ago, but when I went to pay for it at midnight, it was already sold out, it was only a few seconds."
She continued: "And, I don't expect I can receive the products as fast as in normal days, the days is just a show."
"I don't like Singles' Day, goods are actually not much cheaper and I can not find what I want." said Yao, a truck driver living in Shanghai. Despite the complaints, Yao still bought an Apple Ipad at a lower price than average days.
Busy and Happy Merchants
For merchants, they are happy, at least in the Singles' day, and they will be still busy in the following days.
An average merchant can sell much more products on single's day, and many of them need to keep eyes on the screen all day long without sleep to process customer's orders.
The real challenge is the delivery time.
Now, let's expect delivery tricycles and trucks.