Sell on Tmall Global
Build your e-commerce presence in China through Tmall Global.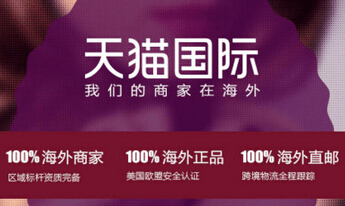 Run Your Business on Tmall Global
You can get your business started on Tmall in less time and we take care most of the jobs for you.
From consultancy, planning, implementation to full operation.
Communicate with Tmall Global
Setting up a Tmall Global flagship store
Chinese customer research
Integrated product management, product analysis and store management
Generate premium content to attract Chinese consumers
Get traffic through integrated Chinese Digital Marketing
Review management
Customer service handling
Find suitable partners in various aspects
Start with A Discovery Contract for a Dedicated Proposal
Discovery Contract for Small Business

Small business: annual revenue up to $1M

$1,500

Discovery Contract for Medium Business

Medium business: annual revenue up to $10M

$2,000

Discovery Contract for Large Business

Large business: annual revenue over $10M

$6,000

delivery within around 1 week
a dedicated proposal
one 30-min telephone/skype consultation session

delivery within around 2 weeks
a dedicated proposal
1 telephone/skype consultation session

delivery within around 4 weeks
a dedicated proposal
up to 2 telephone/skype consultation sessions
How It Works?
You can pay for the discovery contract through Paypal, or send your request via our contact form and we will send over the invoice, you will have more payment options then.
Fill in the China eCommerce service request form that we will email you after your payment is processed.
Describe your detailed situation and challenges with supporting documents.
We evaluate your needs, talk further with you to agree on a certain job scope.
We offer a formal proposal and issue the invoice for your confirmation.
Project starts after payment is done.
We reserve the right to decline the request if your demand is outside of our expertise.
What is Tmall Global?
Tmall Global allows you to sell to the largest e-commerce marketplace in the world.
You don't need to invest huge time and money in the very beginning and you don't need to bother too much about the complicated legal regulations that would otherwise apply.
The Huge Market
To give you an idea of just how much potential there is in the Chinese market, on 11th November 2015, the Alibaba sites Taobao and Tmall together handled sales totaling $14.3 billion USD in one single day.
Opening a store on Tmall Global is a window into a potential market with all possibilities.
Tmall Global: 100% Foreign Original Authentic
Alibaba's Tmall Global is a cross-border B2C platform dedicated to official brand stores selling into China from the outside.
Tmall Global only accepts foreign merchants who can guarantee that the products they sell are 100% authentic.
As counterfeit products are a serious issue in China, the Tmall Global model builds trust, boosts conversion rates, and leads to higher spends as wary consumers are prepared to pay a premium for items which are certified genuine.
The Tmall Global slogan is also a clear promise: "100% foreign original authentic, 100% foreign merchants, 100% domestic return".
In contrast to Tmall China, Tmall Global allows foreign brands to enjoy the benefits of the gigantic Chinese market – without the drawbacks of having an actual presence in China.
Logistics is handled by cross-border drop-shipping specialists who provide delivery to Chinese consumers within five to eight working days. Alternatively, orders can be processed using a bonded warehousing solution in one of the Chinese free-trade zones, or indeed by the merchant itself.
Requirements to Onboard
Businesses looking to trade on Tmall Global must be corporate entities headquartered outside of mainland China holding overseas registered trademarks; they must prove retail track records in other countries and pass background checks with regard to their reputation in existing markets.
You must:
be registered in a foreign country
have a trading license (merchants)
be able to provide supporting documentation for brand ownership (makers)
sell 100% authentic products only
have a proven B2C track record as merchants/traders
be a well-known foreign brand/make with no existing Chinese presence
Tmall Global charges a $25,000 USD deposit and charges between 0.5% and 5% commission on sales on the platform; technical fees range between $5,000 and $10,000 USD depending on the technical category of the merchandise.
First-class Full Range e-commerce Services
You can get full range e-commerce services at Sinostep
A. China eCommerce Strategy Consulting
B. China eCommerce Management & Operations
C. Chinese Professional Copywriting
D. Integrated Digital Marketing
E. Sell Through Channel Partners
F. Value Added Services
Contact Form