China UI Design / UX Localization, Optimization
China User Interface (UI) Design and Chinese User Experience (UX) optimization is critical in a better results for your online business.
China competitor profiling
Analysis of historical web analytics data
Online focus groups & expert interviews
On-site user satisfaction/user experience study
Web speed, reliability & load time testing
Translation of your sites to Chinese
Localization of functions such as social sharing, payment, online chat in to Chinese equivalents.
Localization of your websites user interface design to the Chinese market
Your user interface is your product.
High quality sites needs User friendly design!
What We Do: Make it more fun for your Business
Web UI Design
Mobile App UI Design
Email Template
Landing Page Design
How We Do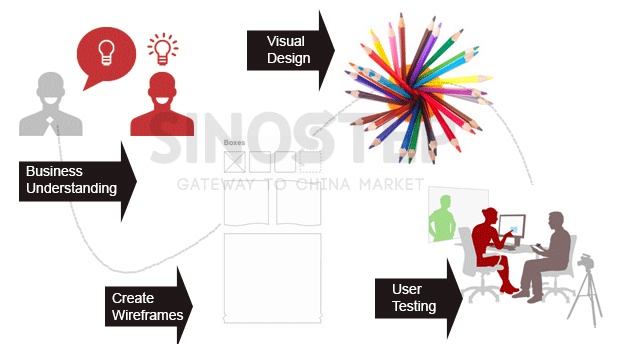 Business Understanding: Know your business and your local target market
User Research: Get feedback from users and create document in the form of personas.
Create Wireframes-screen layouts: evaluate functionality and user flows.
Visual Design: we make it beautiful based on your branding standards.
User Testing: Testing before development begins makes it easy to change if users uncover any issues.
Markup: This last step creates the presentation layer that your development team
Principles of User Interface Design
Organize: consistency, screen layout, relationships and navigability
Economize: simplicity, clarity, distinctiveness, and emphasis
Communicate: legibility, readability, typography, symbolism, multiple views, and color or texture in order to communicate
We follow the best industrial practices
Responsive Designs
HTML 5
Moodboards
Wireframes
Customize Your China UI Design